Tragic Lover, Amedeo Modigliani and Jeanne Hébuterne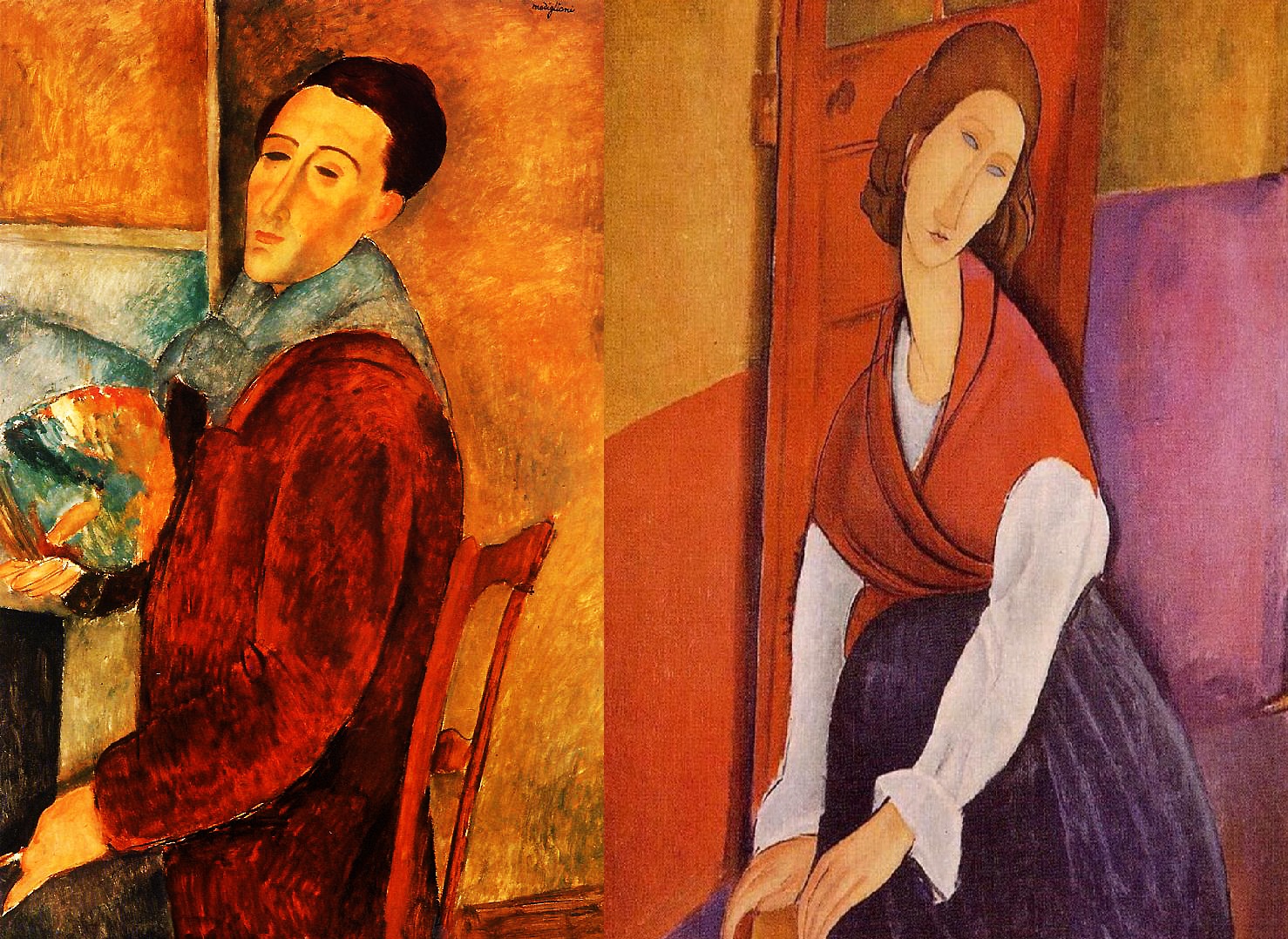 Modigliani, Autoritratto, dipinto a olio su tela (100 x64 cm), 1919 - Modigliani, Jeanne Hébuterne davanti ad una porta, dipinto a olio su tela (92 x60 cm), 1919.

By Seungyong Chang
President, Art Collage JANG, Modigliani Institute Korea and J Books & Media
Amedeo Modigliani was an Italian painter and sculptor who was born on July 12, 1884 and died on January 24, 1920. Modigliani, who studied Ancient and Renaissance art in Italy, moved to Paris in 1906, and from 1909 to 1914, he devoted himself mainly to sculpture. In Paris, he met some women who have had a great influence on his life, among which are Anna Akhmatova, Beatrice Hastings, and Jeanne Hébuterne, the last lover and common-law wife.
In the spring of 1917, after ending two-year's meeting with Hastings, the Russian sculptor Chana Orloff introduced Modigliani to Jeanne, a beautiful art student who was the model of Tsuguharu Foujita.
Born in 1888, Orloff, four years younger than Modigliani, came to Paris to study fashion, where she studied sculpture instead and made friends with Modigliani.
Foujita, born in 1886 and two years younger than Modigliani, was a Japanese painter. After graduating from what is now the Tokyo National University of Fine Arts and Music, he came to Paris, where he met Modigliani.
Modigliani's last lover, Jeanne was a French artist born in 1898. 14 years younger than Modigliani, she was born in Meaux, Seine-et-Marne as the second child of Achille Casimir Hébuterne and Eudoxie Anaïs Tellier Hébuterne. She was introduced to the artistic community in Montparnasse by her brother, André Hébuterne, who wanted to become a painter, and became a model for Foujita.
Jeanne, who was talented in drawing, entered the Académie Colarossi, where she was introduced to Modigliani by Orloff.
Jeanne and Modigliani deeply fell in love soon after meeting. Her family vehemently opposed their meeting, but the two soon began living together. However, she lived with Modigliani, always missing her parents. Lamented her situation that she couldn't go to see her parents, she often visited the park closer to her parents, where she missed her parents and brother.
Modigliani was the object of envy of many women for his handsome appearance, educated knowledge and sophisticated manners, and in fact there were many women around him. However, he was only devoted to her when he met his true love, Jeanne and she became the subject of most of his paintings. Modigliani was always anxious that Jeanne would leave him, and looking at her missing her parents, he feared that she would go to her parents and not return to him. Therefore, when she missed her parents and went to the park far from their home, he would always accompany her.
After meeting Jeanne, she became an indispensable to Modigliani, a precious being like air, and Modigliani was also everything to her.
In 1918, the two moved to Nice, which has a warm climate, where she gave birth to a daughter, and the following year they returned to Paris with their young daughter. After returning to Paris, Jeanne became pregnant again, and Modigliani was engaged to her, but when he discovered that he had severe tuberculosis, he abandoned his wedding plan, regardless of the opposition of her parents. At the time, Modigliani was suffering from tubercular meningitis, and his health deteriorated due to complications by substance abuse.
Modigliani was so happy about that Jeanne had a second child, so he would boast about it to his friends. Modigliani's best friend, Manuel Ortiz de Zárate, recalled his words weeping in tears, after Modigliani's death, that his last wish was to see the face of his second child soon to be born.
Modigliani continued to paint, but his health deteriorated rapidly and his alcohol-induced blackouts became more frequent.
Afflicted with disease and poverty, Modigliani died on January 24, 1920, at Hôpital de la Charité in Paris, leaving Jeanne and his young daughter behind.
Modigliani's best friend Moïse Kisling was near Jeanne at the hospital. Kisling later recalled that he couldn't forget, for a moment, Jeanne's scream filled with grief, during his life.
After Modigliani's death, Jeanne, who was eight months pregnant, went to her parents' home, she had longed for, but two days after Modigliani died, she threw herself out of the window of the fifth floor room and died with her unborn child.
It is said that Jeanne was a quiet and sensitive woman, and since childhood, she seriously thought about life and had a deep interest in death. She was a devoted woman to Modigliani, but she was a woman of very young age just over twenty years old.
It seems that she fell into deep depression and seriously considered about death as she was faced with very difficult realities such as the guilt of betraying her parents and brother, the pain from poverty, the burden on her child as an unmarried mother, and Modigliani's alcohol and drug addiction.
Moreover, the reality that she can no longer see Modigliani in this world drove her into terrible pain, and finally she made an extreme choice
People say that even death could not separate their love. After his death, Modigliani was buried in the Père Lachaise Cemetery, and Jeanne was buried in the Cimetière de Bagneux near Paris. About ten years later, Modigliani's elder brother Emanuele asked Jeanne's family to move her body next to Modigliani, and she could sleep beside Modigliani as her family agreed. A single tombstone honors them, and the tombstone has the following epitaphs. His epitaph reads "Struck down by death at the moment of glory". Her epitaph reads "Devoted companion to the extreme sacrifice."
The two who loved so much were as tragic lover as they loved, and such tragedy made their love sublime and great.
Now Modigliani is among the greatest artists and his works are sold at the most expensive prices. However, in his lifetime, he suffered from poverty and lived a miserable life, such as he gave his paintings for meals because he didn't even have money for his meal. A great artist, Modigliani would have lived a happy life with Jeanne and his children if he had the same recognition as it is now.
Remarks: This article was partly cited from the book "Dedo, Modi, Modigliani" by Seungyong Chang, an entry in the Amazon Book Contest.